Far from the seemingly imaginative and elusive Metaverse, the Snap Pixy is much more down-to-earth and affordable. At least if you live in the US or France, the only markets where it has launched so far. The Pixy costs $229 (about €17,548), and for that price, you get a small drone that the company describes as a "pocket-sized, easy-to-use flying camera".
Find out what you need to know about Snapchat's new camera drone here.
Snap Pixy Specifications and Features
The photos are 12 megapixels, and the video clips have a resolution of 2.7K at 30 frames per second. Although Pixy takes photos in landscape mode by default, the Snapchat app provides a tool that allows you to convert photos to portrait mode.
There is 16 GB of memory on the Pixy. It is always possible to transfer the built-in files/data to a phone/computer via a wired or wireless medium. Bluetooth BLE and WiFi AC 5GHz are available for wireless connectivity.
The drone's design weighs 101 grams (including the battery) and measures 131.7 mm x 106 mm x 17.6 mm. So it is pretty light and small. Because of these features and its yellow color, you will probably find it cute.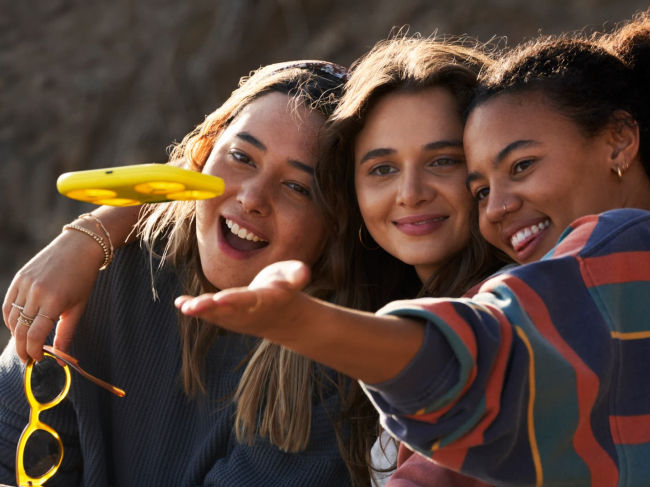 Reportedly, it is easy to use and works without a controller. If you are wondering, it is compatible with both iOS and Android phones.
On top is a silver dial that allows you to choose one of the preset paths, such as Orbit (rotates around you), Hover (follows you from your location), and Reveal (returns to you from a certain distance). You can also set new flight paths in the Snapchat app. However, Pixy's range of motion is only a maximum of 60 seconds within 2 to 3 meters.
Pixy is designed for 5 to 8 flights depending on the chosen flight mode. And when it needs charging, you can replace the battery (easy to replace, but you have to buy it separately) or charge it via a USB-C port on the housing. Snap says you can charge 80% of full capacity in 20 minutes and 100% in 40 minutes.
Around the dial are 4 rotors (in protective cases) that keep the thing in the air. One thing to note is that Pixy is not waterproof and so should not be exposed to "rain, snow or immersion in water".
Snap Pixy Price and Availability
As mentioned earlier, Snap has launched the Pixy in the US and France at $229 (~₹17,548). The batteries cost $19.99 (~₹1531) each. A portable dual battery charger can be ordered for $50 (~₹3832). The company states that the Pixy will be available while supplies last. There is no information on availability in other markets such as India.