Update at 12:19 pm on 7 January: Dushyant has posted an update saying that the OnePlus team has contacted him and has "promised" a replacement
Following reports of the OnePlus Nord 2 exploding, one user posted photos of his charred OnePlus Nord CE on LinkedIn and Twitter, claiming it exploded right in front of him. The incident took place on 2nd January, and fortunately, no one was injured. However, it does raise serious questions about the quality controls OnePlus applies to its products.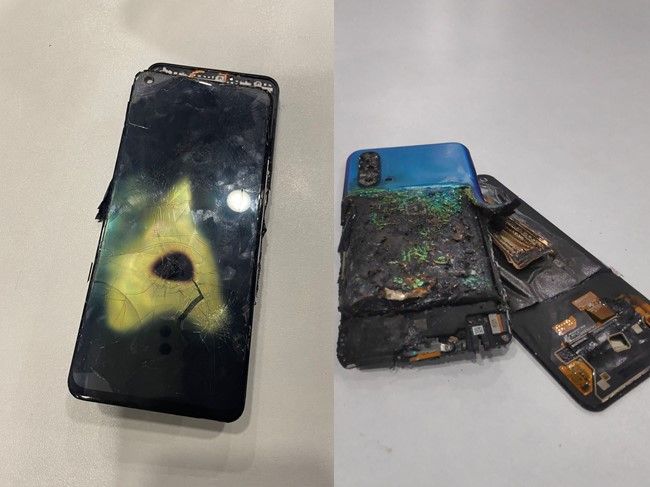 OnePlus Nord CE user claims his phone exploded
According to a post by Dushyant Goswami, his six-month-old OnePlus North CE exploded after he took it out of his pocket while feeling excessive heat. "I bought a OnePlus Nod CE six months ago. The phone has been working fine the whole time. On 2 January 2022, the phone exploded right in front of me. I was lucky that after feeling too much heat in my pocket, I took the phone out and within 2-5 seconds, it exploded," Dushyant wrote in his LinkedIn post.
I own phone from very popular brand ONEPLUS,which promises best quality.
My phone is only 6 months old & it literally blasted yesterday, while i just pulled it out from pocket.
Its not only bad but fatal. Is brand gonna answerable 4 the accident?#ShamefulForOnePlus #Needjustice pic.twitter.com/ZEJa4Z1EAt

— Dushyant Giri Goswami (@DushyantGiriGo7) January 4, 2022
He also claims to have approached OnePlus, but the company has not taken action. In his post, Dushyant also mentioned Navnit Nakra, CEO of OnePlus' India region, and the company's founder Pete Lau. Meanwhile, OnePlus India Support on Twitter asked Dushyant to contact them.
This is not the first time that OnePlus has come under fire for blowing up one of its phones. In September 2021 and November 2021, there were two instances where the Nord 2 suffered the same fate as Dushyant's Nord CE.
OnePlus Nord 2 also exploded a few months ago
The OnePlus Nord CE launched in June 2020 with a Snapdragon 750G, 64MP triple camera, 90Hz refresh rate AMOLED display and a 4,500mAh battery that supports 30W fast charging.