Vodafone Idea (Vi) has launched three new prepaid plans in India at a cost of ₹98, ₹195, and ₹319. As you can guess, the benefits allowed for each of these offers decrease with the price. So that makes ₹98 the cheapest in the bunch and while it comes with unlimited calls for a small period as well as some mobile data, it doesn't come with an outgoing message quota. At the other end of the spectrum is the ₹319 plan with a "Binge All Night" benefit. Let's take a look at what this means and take a closer look at the three prepaid Vi recharges.
New Vi prepaid plans: Validity and Benefits
Vi is expanding its 31-day plans with the new ₹195 and ₹319 recharge packs. Here's what you get with them:
The Vi plan ₹319 is valid for 31 days and during this period you can avail unlimited calls, 2GB/day data allowance and 100/day SMS. It also comes with the 'Binge All Night' benefit, which means that the data you use between midnight and 6am will not be deducted from your allowable data quota.
The R. 195 plan is valid for 31 days. During this period, you get unlimited calls, 2 GB data allowance and 300 SMS.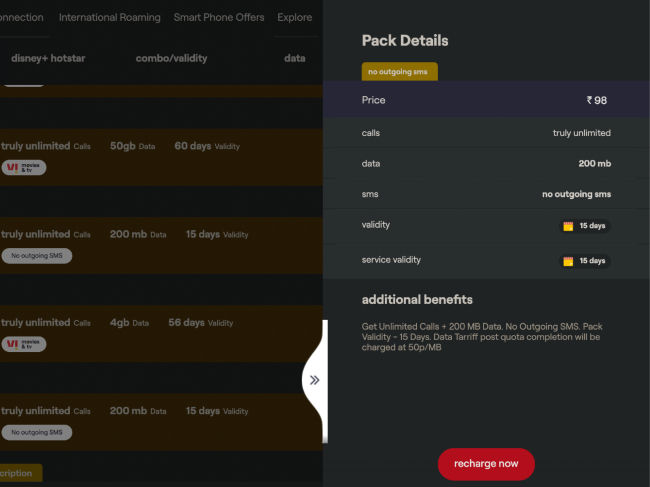 Then there is the ₹98 plan, the most affordable of the three, with a validity of 15 days, unlimited calls and 200MB of data. However, it does not allow outgoing SMS.